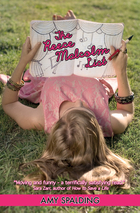 The Reece Malcolm List
by Amy Spalding is realistic teen fiction, but on the lighter side. It deals mostly with family dynamics.
When Devan's father dies, she is sent to California to live with Reece Malcolm, the mother she has never even met. Reece Malcolm, a successful author, is so reclusive that Devan can't even find out much about her from the Internet, so she starts keeping a short list of the things she knows about Reece Malcolm. Upon arrival in California, Devan learns many things about Reece -- including that she is willing to give Devan a new wardrobe and get her into a performing arts school so Devan can follow her dream of a career in musical theatre. But no matter how much Devan learns about her mother, she can't help thinking that Reece didn't want her in the first place, and probably doesn't want her now. Will Devan and Reece manage to become a real family, or is sixteen years of separation too great a barrier to overcome? Also cooking, Sondheim, and kissing.
This debut novel has a lot of good points -- the voice is spot on, the characters are well-rounded, and the pacing is good. The plot is so similar to
One of Those Hideous Books Where the Mother Dies
by Sonya Sones that I almost felt at times that I had read it before, but the style, characters, and secondary plot lines help differentiate it from that book. I think young teens will really enjoy this story, as will all readers who enjoy YA lit of this variety.
(Reviewed from a copy borrowed through my library system.)