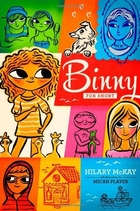 Binny for Short
by Hilary McKay is a quirky story with surprising depth.
It all started when Binny's father died and the true state of the family finances was revealed. Binny knows that she should feel badly about her father being dead, but she is actually much more upset about the loss of Max, her dog. When Binny's family has to move and Max is left in Granny's care, Great Aunty Violet gives Max away -- and Binny will never, ever forgive her for that. She tells Aunty Violet so, too, in the car after Granny's funeral a few years later. When Aunty Violet dies a few months after that, she leaves the family her little house in a seaside village (and leaves Binny her "particular regards!"). Life in the village is interesting, and is made even more so when the summer comes and Gareth moves in next door. From the start, Binny and Gareth are best enemies. Through all of her adventures crewing on handsome Liam's seal-watching boat, looking out for Aunty Violet's ghost, and having adventures with Gareth, Binny never forgets about Max. He's out there somewhere -- Binny is sure of it. Will she ever find him again?
Hilary McKay's books always hit the right notes for me. The characters are lovely (Binny's little brother James was my favorite in this one), the plot is dazzlingly convoluted, and the dialogue is snappy and humorous. And in this book there is an undercurrent about grief and regrets that is handled with the lightest touch of a skillful writer. Recommended!
(Reviewed from a copy borrowed through my library system.)