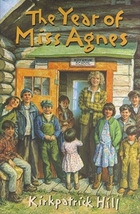 The Year of Miss Agnes
by Kirkpatrick Hill is a tale of an inspirational teacher in a remote Alaskan village.
Though she is just ten years old, Frederika has seen many teachers come and go from the school in her village. For some, it is too remote from the rest of civilization. For some, the hardships are too great. For some, the constant smell of fish is just too overpowering. In October of 1948, one such teacher leaves the village -- and another one comes. Miss Agnes, a veteran teacher who has worked for years in another part of Alaska, was on her way home to England, but she agreed to stay through the school year to help out Fred's community. Miss Agnes is a teacher like none Fred and her friends have ever met. She wears pants! She throws away the battered old schoolbooks and brings out her own collection of books, maps, and supplies! She even encourages Fred's older sister, who is deaf, to attend school, and she and the children learn sign language together. Miss Agnes talks about children from Fred's village as if they have a future beyond the confines of their rural area, and the children start to believe it, too. But what will happen when the year is up and Miss Agnes returns to England? Will everything go back to the way it was?
I had never heard of this book until I picked it up from the library shelf, where it was languishing in quiet obscurity. It portrays a way of life that will be unfamiliar to many readers, coupled with the tale of the triumph of alternative methods of education. I enjoyed the story, though it's a quiet one that will not necessarily appeal to all readers.
(Reviewed from a copy borrowed through my library system.)