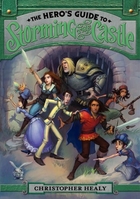 The Hero's Guide to Storming the Castle
by Christopher Healy is the second book in the League of Princes series.
Ever since their big adventure together, the members of the League of Princes have been at loose ends. When another threat to their kingdoms arises, can they band together again, or will their many differences keep them apart? The evil witch Zaubera is gone, but the juvenile bandit king Deeb Rauber has moved into her fortress and established a small kingdom called Rauberia, from which he plans to take over the world. Rauber is not the only one with plans for world domination: Briar Rose has been cooking up some schemes, as well. She also hasn't given up on marriage to Prince Liam, though marrying bratty Briar Rose is the last thing Liam wants to do. When Liam falls into her clutches, he learns of her schemes, as well as some startling facts about his own past. Can the League of Princes save him from his matrimonial fate? And can they save the kingdoms from Rauber's machinations? To do so, they'll have to storm the castle . . .
This book has the same good points as its predecessor, and the same downfalls, as well. It's full of action and humor, and the characters are just as quirky and amusing as before. The book is quite a hefty chunk, though after the first book, that's to be expected. And, though it certainly has substantial length, there's still not a lot of depth to it -- but again, that's in keeping with the tone of the first book in the series. It has just as many fun and often improbable plot twists, and readers who enjoyed
The Hero's Guide to Saving Your Kingdom
will find this book just as enjoyable. The series certainly doesn't end here, though: the ending of this book definitely sets up the major conflict of the as-yet-unpublished third volume in the series.
(Reviewed from a copy borrowed through my library system.)