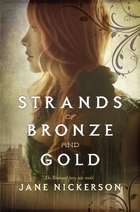 Strands of Bronze and Gold
by Jane Nickerson is a Southern Gothic retelling of Bluebeard.
When her father dies, 17-year-old Sophia Petherham goes to live with her mysterious godfather Bernard de Cressac at his enormous house in Mississippi. At Wyndriven Abbey, Sophia is given everything she could want -- a sharp contrast to the life of genteel poverty her family has become accustomed to. She also enjoys the doting attentions of M. de Cressac, a man not so old that his attentions are not flattering. Sophia wonders if she could be falling in love with her guardian. Occasional glimpses of his unstable and alarming temper soon make her question her brief infatuation, but despite her cooling affections, his possessive ardor soon becomes overbearing. Moreover, Wyndriven Abbey holds many secrets, most of them related to de Cressac's past. Sophia learns that she is not the first lovely redhead to live at the abbey, though all who came before her suffered tragic, mysterious fates. If Sophia cannot escape, she may be destined to follow in their footsteps.
This engrossing read is fascinating and creepy, and the setting is perfect for a Bluebeard retelling. The characterization is perfect, as the reader discovers de Cressac's true nature along with Sophia. The pacing is steady -- as befits a Southern Gothic, it never rushes, but neither does it drag. If you enjoy a story with great characters and atmosphere, with some suspense and creepy elements, I certainly recommend this book!
(Reviewed from a copy borrowed through my library system.)