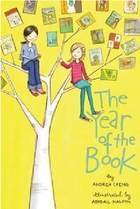 The Year of the Book
by Andrea Cheng is a gentle, slight story for middle-grade readers.
Third-grader Anna is having friend troubles: her ex-best-friend Laura is now hanging around with Allison, a mean but popular girl, leaving Anna on her own. Anna escapes into the pages of books -- but when Laura is facing serious problems at home, can Anna let go of her resentment and remember how to be Laura's true friend?
The best descriptor I can come up with for this book is "nice" -- it's not going to rock anyone's world, but it's a nice, gentle sort of story. Girls like Anna, who escape into books and have friendship troubles and run-ins with mean girls, will see themselves in this book. There's also an element of diversity as Anna learns to respect her Chinese heritage. A pleasant read, but I won't seek out others in the series.
(
Reviewed from an advance copy, courtesy of the publisher.
)