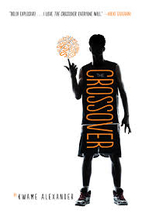 The Crossover
by Kwame Alexander is this year's Newbery Medalist.
Twelve-year-old Josh Bell is a basketball player, just like his dad, hoping to be as famous as his dad was, someday. Josh and his twin brother Jordan have been inseparable, on the court and off, all their lives. This year, though, things are changing. Jordan has a girlfriend, and Josh is, let's face it, a little bit jealous. When a spur-of-the-moment bad choice leads to Josh's suspension from the basketball team, he has to face up to more than one issue in his life and in his family.
More than a novel about basketball, this is a story of family dynamics that tugs the heartstrings with its pitch-perfect voice. I'm loving the fact that this Newbery medal winner is a book that I'll be able to recommend to all kinds of readers: sports fans, lovers of verse novels, readers who like a good story about siblings and families . . . really, anyone who enjoys a good, solid read.
(
Reviewed from a copy borrowed through my library system.
)