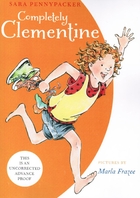 Completely Clementine
by Sara Pennypacker is the conclusion of the Clementine series.
It's the end of the school year, and Clementine is not ready to say goodbye to third grade. What if her fourth grade teacher is not as understanding as Mr. D'matz? Has she really learned enough to move on? Clementine is not sure. On top of that, she's not speaking to her father, who ate some of Mrs. Jacobi's meatloaf in spite of Clementine's strongly-held, albeit recently-discovered, views on eating animals. Plus, Margaret's mother is about to get married, and Clementine's mother is about to have a baby. There are plenty of changes in store for Clementine as she prepares to say goodbye to third grade -- and to her adoring readers.
I'm sad to see Clementine go, but glad she went out on a high note with this book, which is just as delightful and tightly written as the earlier books in the series. These are such fun books, and I know I'll be recommending them to young readers for years to come.
(
Reviewed from an advance copy, courtesy of the publisher.
)