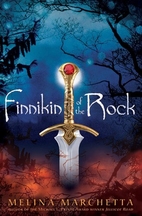 Finnikin of the Rock
by Melina Marchetta is the first book in an acclaimed epic fantasy series.
Some ten years ago, Lumatere was a peaceful and prosperous kingdom. Finnikin of the Rock, son of the Captain of the King's Guard and best friend to the young prince, was enjoying an idyllic childhood. Then came the five days of the Unspeakable, when Lumatere's rulers were overthrown and many of her people exiled, while others remained trapped within the curse-sealed gates of the walled kingdom. Finnikin was left outside the walls with Sir Topher, the king's trusted adviser, and the two have spent the intervening years traveling the surrounding kingdoms, trying to help Lumatere's scattered people. When Finnikin has a dream drawing him to a distant convent of the Goddess, he hopes to find news of the lost prince. Instead, he finds a girl named Evanjalin. Finnikin is disappointed at first, but it soon becomes clear that the girl is more than what she seems. Will she be the one who helps Finnikin and the scattered people of Lumatere return to their homeland?
This is an impressively well-written fantasy, but it was not for me. I just found the whole thing a little too gritty and brutal, what with all of the rape and torture and death and vengeance. I disliked all of the characters to some extent, and I saw the big plot twist coming a long way off. I can see this appealing to readers who like their fantasy with darkly flawed characters and plenty of gore, so if it sounds like your thing, don't be put off by my review.
(
Reviewed from a copy borrowed through my library system.
)