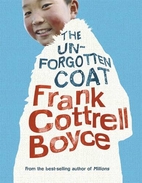 The Unforgotten Coat
by Frank Cottrell Boyce is a brief story of an English schoolgirl whose world opens up when she meets two boys from Mongolia.
Sixth-grader Julie is mostly interested in getting her crush's attention and finding a way to get her popular friend to invite Julie over to her house after school, until the day she meets Chingis and Nergui. Charismatic Chingis, who is able to talk Julie's teacher into allowing his younger brother to stay in their classroom instead of being sent to a lower grade, appoints Julie as the brothers' 'good guide.' Julie takes her new role seriously, spending free time with Chingis and Nergui and doing a report on Mongolia which she shares with the class. She tries to extend their friendship beyond the classroom, hoping to see where the boys live, but when she finally achieves this goal, she gets an unexpected glimpse into the fear that Chingis and his family live with from day to day. When the family is abruptly deported, Julie is left with questions that haunt her well into adulthood.
This is an interesting book, almost surreal in places (this effect is amplified by the Polaroid-style illustrations sprinkled throughout), but also grimly realistic in its portrayal of a family caught in a difficult situation. In the Author's Note at the end, Boyce mentions that the story was inspired by real-life events. Though this is a quick read, I think it will appeal more to adults than to children.
(
Reviewed from a copy borrowed through my library system.
)