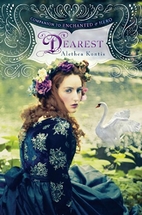 Dearest
by Alethea Kontis is the third book in the Woodcutter Sisters series of retold fairy tales.
Friday Woodcutter, loving and giving, is caught up in a mysterious magical ocean that comes flooding through the kingdom. She is almost drowned, but a passerby takes her to the castle where her sister Sunday is queen, and where many refugees have fled due to the flood. While caring for the refugee children, Friday befriends a mute kitchen maid and discovers that this maid is more than what she seems: a foreign princess caught in a curse, along with her six brothers who sleep in the ruined tower as princes by night, and swim in the castle pond as swans by day. Friday, with her empathic magic and her skill with a needle, is the ideal sister to help these cursed individuals -- but the evil magician who cast the curse is on his way to the kingdom, and Friday and her new friends may not have much time. . .
The events in this book are concurrent with those in its predecessor,
Hero
-- this book tells about what happens in the kingdom while Saturday is off on her adventure. It's just as delightful as the first two volumes, and can stand on its own fairly well, though I'd recommend starting at the beginning with
Enchanted
. My only criticism is that the climax of the book is a little muddled, or crammed too full of stuff, a fault that the other books in the series share. I think it's because the series has such an ambitious premise, pulling in all sorts of fairy tale elements in each book and yet also weaving together the larger story of the Woodcutter family, seeped as they are in legend and portent. I'm excited to see where the series goes next (I'm assuming each sister gets a book, but that could be tricky since one of them is, well, dead), and I'm already picking up hints that Monday's story, which should be the last book in the series, will be epic. Fans of retold fairy tales, if you haven't discovered this series yet, you need to do so soon!
(
Reviewed from an advance copy, courtesy of the publisher.
)