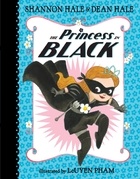 The Princess in Black
by Shannon and Dean Hale is a fun early chapter book about an unconventional princess.
Princess Magnolia has a secret: when the Monster Alarm goes off, she leaves her perfectly pink chambers and becomes The Princess in Black, fearlessly protecting her kingdom from the monsters that would otherwise run amok. But when the Monster Alarm goes off as she is sipping hot chocolate with the Duchess Wigtower, will Princess Magnolia be able to deal with the intruder and return before the Duchess can snoop into her belongings and find out her secret?
This delightful little book demonstrates that girls can be princesses and superheroes, too. With its chapter book layout, simplified wording, and plethora of bright illustrations, it hits it just right for readers who are just graduating from leveled readers into the world of chapter books. I'm hoping to hear more about the Princess in Black and her incipient sidekick the Goat Avenger soon!
(
Reviewed from a finished copy, courtesy of the publisher via the LibraryThing Early Reviewers program
.)