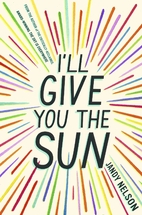 I'll Give You the Sun
by Jandy Nelson is this year's Printz Medal winner.
When they were thirteen, twins Noah and Jude could hardly be more different: Noah was the quiet, sensitive, and artistic boy who dodged bullies and dreamed of attending the nearby arts high school, Jude was the confident and popular surfer girl. Despite their differences, the two were inseparable. But by age 16, things have changed: Jude is the one attending the arts high school, camouflaging herself in dark, baggy clothes, and creating sculptures representing her own brokenness, while Noah has become a jock at the normal public high school, who never draws or paints any more. The most striking difference, though, is that Noah and Jude hardly speak to each other any more. They've been split apart by a family tragedy. What will it take to mend their relationship?
I'm hardly doing justice to this book with that summary. This is one of the best books I've read this year -- touching and uplifting and thought-provoking and funny. It reminded me a bit of one of my favorite books from last year,
Aristotle and Dante Discover the Secrets of the Universe
, but I think I actually liked this one better. I can absolutely see why this book won the Printz Medal. Highly recommended!
(
Reviewed from a copy borrowed through my library system.
)