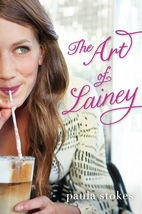 The Art of Lainey
by Paula Stokes is a YA novel about, love, war, and the similarities between the two!
Lainey Mitchell had a great junior year, her summer is off to an epic start, and senior year promises to be all that she could want: co-captain of the soccer team, student body vice-president, and maybe even homecoming queen beside her long-time boyfriend Jason. And then, out of the blue, Jason shows up at the coffee shop where Lainey works, and dumps her. Lainey is not about to take this lying down. With the help of her best friend Bianca and an ancient Chinese warlord, Lainey devises a plan. That's right: she decides to take her cues from Sun Tzu's
The Art of War
. She teams up with Micah, a male coworker who has also recently been dumped, and together the two scheme to make their exes jealous and, hopefully, win them back. But just when Lainey's plan seems to be working, she must decide: does she still want to win this battle?
This is a cute, fairly typical YA romance. I picked it up because of the premise (
The Art of War
? Really?) which worked pretty well. It's going to be obvious to readers from the start that Lainey's boyfriend is a jerk and Micah is the guy she ought to end up with, but romance novels are all about watching how two characters end up together, so major plot twists are not required if the story is good. I think this will appeal to readers who love YA romance -- for me, it was an okay read, but not a great one.
(
Reviewed from an advance copy, courtesy of the publisher.
)