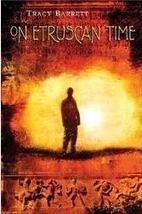 On Etruscan Time
by Tracy Barrett is a story of archaeology and time travel.
Hector is not excited about accompanying his mother to Italy for an archaeological dig -- he'd rather be hanging out with his friends all summer, sleeping until noon, playing video games, and going to the pool. But he can't help but be interested in the dig site, especially when one archaeologist encourages him to help out, showing him how to excavate in a practice area that's not part of the official dig site. When Hector discovers an eye-shaped token, the archaeologist dismisses it as a modern piece, probably dropped by a tourist, and allows Hector to keep it. The token proves to be more ancient, and more magical, than anyone could have guessed. It transports Hector back to Etruscan times, where he meets a boy named Arath, the original owner of the token. Arath is in trouble, and it seems that Hector has been brought to that time specifically to help him. But what can one boy from the the twenty-first century do?
Meh. Another all-right-but-not-great read. As an adult reader, I was more interested in the adults' backstory than in Hector's time-travel adventures. And as far as young readers are concerned, the book gets off to a rather slow start. Unless they have a particular interest in archaeology, they're not likely to keep going for the promise of more adventure later in the book. It's not a bad story, just not one that's particularly compelling.
(Reviewed from a copy borrowed through my library system.)