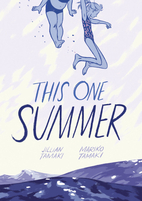 This One Summer
by Mariko Tamaki, illustrated by Jillian Tamaki is a young adult graphic novel that has won some pretty impressive awards.
Every summer, Rose and her parents vacation at Awago Beach. This summer, though, things seem different. The relationship between Rose's parents is strained, as is the relationship between Rose and her mother. And Rose and her best beach friend Windy are discovering a whole new world of adolescence as they discuss fascinating forbidden topics, watch equally fascinating forbidden horror movies, and spy on the even more fascinating older teens in the area. There's some serious drama going down among the local teens, and Rose and Windy have definite opinions about what's going on -- but when the situation turns dangerous, will they find themselves in over their heads?
This graphic novel is gorgeously illustrated and emotionally complex. While it's not exactly my cup of tea, genre-wise, I can see why it has garnered so many honors. The author does a great job of portraying that curious, intense, and occasionally silly stage of early adolescence as Rose and Windy test the tempestuous waters of puberty. Readers who enjoy realistic coming-of-age stories in the graphic novel medium should certainly take a look at this one. Be advised: despite its Caldecott honor, it's not well suited for most children.
(Reviewed from a copy borrowed through my library system.)