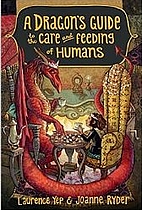 A Dragon's Guide to the Care and Feeding of Humans
by Laurence Yep and Joanne Ryder is a cute story, albeit without a lot of depth.
Miss Drake's pet human Fluffy (known to other humans by the ridiculous name of 'Amelia') has recently died. Now Miss Drake must contend with her new human, a youngster named Winnie. Winnie is not nearly as biddable as Fluffy was, but Miss Drake can't help becoming fond of her, especially when a magical sketchbook causes chaos and the two must work together to save San Francisco from disaster.
This book is cute and funny, and I will recommend it to dragon-loving kids. However, it doesn't measure up to books such as
Dealing with Dragons
, so adult fans of juvenile fantasy can probably pass on this one.
(Reviewed from an advance copy, courtesy of the publisher.)