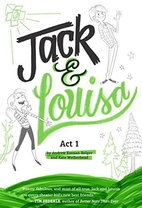 Jack & Louisa: Act 1
by Andrew Keenan-Bolger and Kate Wetherhead is a fun ode to musicals and community theatre.
Jack may be only 12, but he's already a Broadway veteran when disaster strikes: in rehearsals for a new show, Jack's voice starts to break. He has no choice but to bow out, especially when his father's job takes him to Shaker Heights, Ohio. Jack is trying to prepare himself for a life as a normal kid -- but then he meets his neighbor Louisa. She may never have been to Broadway, but she has mad skills as a musical theatre geek, able to spout facts and statistics about favorite shows, actors, and directors -- and she's thrilled to finally have someone around who might understand her obsession. When the local community theatre group announces auditions for
Into the Woods
, a show beloved by both tweens, Louisa hopes that Jack will join her in trying out -- but maybe Jack doesn't want to do theatre any more...
This was a timely read for me, since community theatre is pretty much the reason I've more or less disappeared from this blog recently! I thought the authors did a great job with both the theatrical details and the preteen angst. There's not a lot of depth, but it does what is sets out to do admirably: it's a fun, fluffy read that will certainly appeal to young readers who share Jack and Louisa's theatrical aspirations.
(Reviewed from a copy borrowed through my library system.)