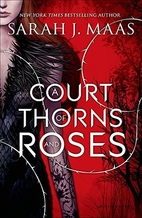 A Court of Thorns and Roses
by Sarah J. Maas is a rich and satisfying fairy tale retelling.
Maybe Feyre knew the wolf was a faerie. Maybe she didn't care. But she didn't know that killing it would break the Treaty and that her own life would be forfeit. When a faerie lord comes to avenge the death of one of his kind, Feyre faces him boldly, but rather than killing her, he takes her with him, across the wall to the faerie lands, to his own estate. Feyre's life is forfeit, and she will spend the rest of that life with him. She is treated with a sort of cold kindness in her new home, and she even begins to see some of the beauty of it -- and some of the darkness. A blight creeps across the faerie realm, and her host's once powerful magic is greatly reduced. Feyre finds herself interested in the plight of her captors, and then more than interested in her host, specifically. But she promised on her mother's deathbed to take care of the family, to keep them together -- and if the faerie blight threatens the mortal realms as well, she must return to her father and sisters. It's only when she is home once again that she realizes she may have made a terrible, costly mistake. Can she find a way to make things right?
I've read a lot of Beauty and the Beast retellings, and I generally like them to some extent. But this one, I loved. The author incorporated so many lovely little twists to make the story her own, while still remaining true to the heart of the original tale (or tales, because there's just a faint strain of a second fairy tale woven through it). I particularly like the way things unfold after Feyre returns to the estate, because it doesn't end there -- oh, no, indeed. But I'd hate to give anything away and spoil your enjoyment of this book that I found to be both velvety as a rose petal and sharp as a thorn.
(Reviewed from a copy borrowed through my library system.)