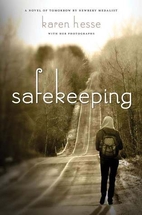 Safekeeping
by Karen Hesse is a dystopian survival story, but it's probably a lot more low-key than you're expecting from that description.
Radley is doing volunteer work in Haiti when the totalitarian American People's Party gains control of the USA. She catches the first available flight back in order to be with her parents again, but they are not awaiting her arrival at the airport, and the USA she lands in is not the one she remembers from her departure a few months ago. Her cell phone charger is lost, she has no cash on hand and credit cards no longer work, and she doesn't have the proper paperwork to cross the state line in order to get home by bus. When she can't even get in touch with her parents by scrounging coins for a pay phone, Radley decides to set out on foot across New England. She makes the journey to her hometown only to find her house standing empty. There are police and soldiers enforcing curfews -- have her parents been arrested, or did they flee to Canada? Hoping for the latter, Radley sets out once again, this time heading north. Can she stay safe from the military, gangs who attack lone travelers, wild animals, and the elements? And even if she does, where will she go?
This is a dystopia written on a human scale. Radley isn't out to save her country or overthrow the government -- she's just doing the best she can to stay alive and safe, hoping to connect with the people she loves, waiting out the storm. It's probably what most of us would do in similar circumstances. The near-future setting and the focus on the individual makes this an excellent book for readers who enjoy realistic stories of survival. Recommended.
(Reviewed from a copy borrowed through my library system.)