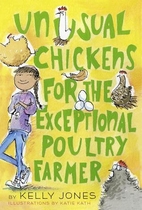 Unusual Chickens for the Exceptional Poultry Farmer
by Kelly Jones is a delightful tale of magic and poultry.
Sophie's not super excited about moving to the farm her father inherited from a great-uncle, but if she's going to live in the country, at least she can have some chickens, right? And then the chickens start showing up on their own, identified by the neighbors as birds that used to belong to Great-Uncle Jim. But these chickens have some . . .
interesting
. . . abilities. And it turns out that Sophie is not the only one who wants these chickens. Where are the chickens coming from -- and who is trying to take them away?
This book, written in epistolary style, is just as fun and quirky as you might expect from the title. I, too, had chickens when I was Sophie's age (though mine were just ordinary ones) so that might have influenced me somewhat in favor of this book, but I believe country folks and city dwellers alike will find this story charming.
(Reviewed from a copy borrowed through my library system.)