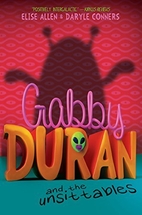 Gabby Duran and the Unsittables
by Elise Allen and Daryle Conners is a wacky story about a girl with out of this world babysitting skills.
Gabby Duran has never shied away from challenging clients. She may be only 12, but she has the creativity and composure to deal with the most mischievous or obstinate child, and her babysitting business is booming. In fact, her skills draw the attention of some highly unusual clients: aliens. Gabby's career is about to be launched in a whole new direction. If she's successful the rewards could be huge, enough to put her through college and set her entire family on stable financial footing -- but if she fails, the consequences could be, well, cosmic.
I had so much fun reading this book. It's a light, quick read, packed with the sort of humor that will delight young readers. I'm hoping that this is just the first of many adventures for Gabby Duran!
(Reviewed from a coup borrowed through my library system.)