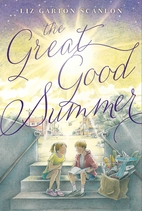 The Great Good Summer
by Liz Garton Scanlon is a folksy tale of two youngsters on a runaway road trip.
When Ivy's mother up and runs away with a traveling preacher named Hallelujah Dave from the Great Good Bible Church of Panhandle, Florida, Ivy doesn't know what to make of it. Why would her mother leave? Why does her father not try harder to get her to come back? In the midst of all her worry, an unexpected friendship springs up between Ivy and science nerd Paul, who is mourning the death of the space shuttle program. The two hatch up a scheme to go to Florida and find Ivy's mother (and maybe pay a visit to Kennedy Space Center as well). Of course, things don't go exactly as planned. . . .
I liked this book well enough, but did not love it. I know it's intended as contemporary (aside from the definite, anchoring detail about the end of the space shuttle program, there were cell phones and such), but I kept having to remind myself that this was not historical fiction set in the sixties or seventies. I can't exactly put my finger on why this was, but it puzzled and annoyed me throughout the book. Maybe it's just me? I also found Ivy very similar to other feisty young girls in this sort of book; she doesn't stand out as a distinct character in my mind. Again, I'm jaded when it comes to books with a folksy southern tone like this one has, so I can see others enjoying this book more than I did -- in the end, I think it's just not my cup of tea.
(Reviewed from a copy borrowed through my library system.)