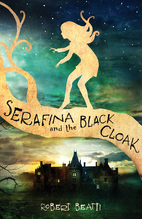 Serafina and the Black Cloak
by Robert Beatty is a spooky novel set in a grand location.
Years ago, Serafina's father helped build the Biltmore mansion. The house has many secrets -- and Serafina is one of them. She sleeps most of the day and prowls the house at night, catching rats and observing the midnight life of the house. She does not, however, venture into the woods surrounding the estate, because her father has often warned her of the many dangers that lurk there. But when danger comes to Biltmore, Serafina may be the only one who can stop it -- if she is brave and daring and willing to move beyond the confines of her hidden life.
This book has fascinating notes of mystery and suspense. It's definitely on the creepy side, though it has its moments of sweetness as well. The atmosphere and setting are the best parts of the book -- while the plot is also fairly good, I thought the characterization faltered in spots. But it's still an enjoyable read, one that will appeal to kids who enjoy books like
The Night Gardener
by Jonathan Auxier and
Doll Bones
by Holly Black.
(Reviewed from an advance copy, courtesy of the publisher.)