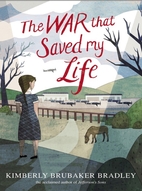 The War that Saved My Life
by Kimberley Brubaker Bradley is juvenile fiction set during World War II, and possibly one of the best children's books I've read all year.
Ten-year-old Ada has never left her family's London apartment. Her mother is ashamed of Ada's club foot and refuses to let her appear in public. When Ada's little brother Jamie comes home from school with the news that children in London are being evacuated to the countryside because of the danger of bombings, Ada hatches a daring plan: she knows her mother would not give her permission to go, but what if she were to go anyway? She sneaks out with Jamie on the morning the children are to leave, and just like that, enters what might as well be another world. In the country, Jamie and Ada are placed with Susan, a spinster who did not intend to take in children. Slowly, Ada and Jamie learn to trust Susan, and Susan learns to care for, and even love, the children. But what will happen when the war ends and Ada and Jamie must return to London?
This book has a multitude of strengths (plot, pacing, setting to name a few) but the characters are what make it really stand out. Each of the three main characters has a distinct and beautifully rendered emotional journey as the story progresses, and I was completely wrapped up in their lives while reading. I would not be surprised to see it garner some accolades when awards are handed out this winter!
(Reviewed from a copy borrowed through my library system.)