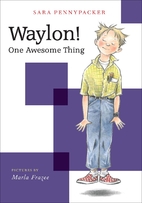 Waylon! One Awesome Thing
by Sara Pennypacker
For Waylon, fourth grade is shaping up to be, well, less than awesome. It all started when Arlo, the undisputed king of the fourth-grade boys, decided to divide the boys up into teams. At first, Arlo said he wanted Waylon on his team, but now he seems to have changed his mind. What if Arlo doesn't put Waylon on either team? Also, Baxter Boylin, troublemaker extraordinaire, has returned to school. What if Arlo puts Waylon and Baxter on a team by themselves? Waylon has always loved science facts and finding the "one awesome thing" every day, but now he's having trouble finding anything awesome about school.
I was so sad to see the end of the
Clementine
series, and I'm so excited to see this new collaboration by Pennypacker and Frazee. This series features a different main character from the same class, so Clementine and other familiar characters make cameo appearances, but Waylon (once described by Clementine as "the scienciest kid" in her class) is the star. And I have to say, this first book is pretty great. In fact, I suspect that this series is just going to keep getting . . . Even! More! Awesome!
(Reviewed from an advance copy, courtesy of the publisher.)