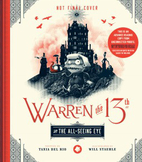 Warren the 13th and the All-Seeing Eye
by Tania del Rio and Will Staehle -- Orphaned Warren is heir to the family hotel, but until he comes of age the hotel is managed by his lazy uncle Rupert and Rupert's evil wife Annaconda. Warren believes that Annaconda only married Rupert in order to get her hands on the legendary All-Seeing Eye, thought to be hidden somewhere in the hotel. Warren doesn't know where the Eye is, but he knows he'd better find it before Aunt Annaconda does!
This is a fun, quirky tale (appropriate, considering the publisher) that relies equally on text and illustrations. The secondary characters are a bit flat, and I thought the plot took some leaps in unexpected directions, but the story is generally enjoyable and the pacing is good. This tale is the sort that readers of
The Mysterious Benedict Society
and
Floors
ought to investigate.
(Reviewed from an advance copy, courtesy of the publisher, via the LibraryThing Early Reviewers program.)