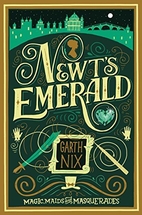 Newt's Emerald
by Garth Nix is a delightful fantasy of manners.
Lady Truthful Newington -- Newt, to her rowdy crew of male cousins -- is looking forward to her first London season, but everything changes one dark and stormy night when the Newington Emerald, the family's most precious (and magically powerful) jewel disappears. Determined to track down the thief, Truthful disguises herself as a man and searches London for clues. During her quest, she meets Major Hartnett. She can't deny her attraction to him, but he's of the firm opinion that all women are heartless and deceitful -- what would he say if he learned of her disguise?
This is a terrifically fun read inspired by Austen, Heyer, and O'Brian. It's different from anything else Nix has ever written, but in no way inferior. Recommended to readers who enjoy both fantasy and Regency romances.
(Reviewed from a copy borrowed through my library system.)