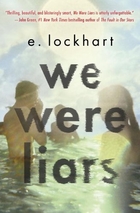 We Were Liars
by E. Lockhart is a . . . well, I'd tell you, but I'd probably have to lie.
Ever since they were eight years old, they've spent their summers together: Cady, Johnny, Mirren, and Gat. Three cousins and a friend, running wild on the cousins' grandfather's private island. But then, two summers ago, something happened, some trauma Cady can't quite remember. She hit her head, she thinks. And last summer she toured Europe with her father. But now she's back on the island, back with Johnny and Mirren and Gat, her favorite people in the world, ready to face whatever it is that she's been trying so hard not to remember. Or is she?
I found this book intriguing in the literary sense, though I never connected with it on an emotional level -- too many of Cady's problems are Rich Kid Problems, and she's a little too intentionally vague to transcend her socioeconomic background and resonate with the rest of us, I think. But it kept me reading to the end, to see how things played out in terms of the mystery. The hints were there, but I didn't even suspect the truth until shortly before it was revealed. I also appreciated the homage to
King Lear
. This book grabs hold of the brain, though not necessarily the heartstrings, and if you're okay with that, then I would certainly recommend it to you.
(Reviewed from an advance copy, courtesy of the publisher.)