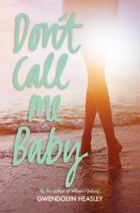 Don't Call Me Baby
by Gwendolyn Heasley is the story of a teen struggling to step out of the spotlight her blogging mother constantly shines on her.
Imogene has been known online as Babylicious since before she was born. Her mother started a mommy blog as soon as she found out she was expecting, and she's chronicled Imogene's life ever since, from potty training to bed-wetting to Imogene's first period. But now Imogene is starting ninth grade, and she longs for privacy. She doesn't feel that she can confront her mother about the invasive aspects of the blog, especially since it's one of their household's primary sources of revenue, but when a school assignment leads to Imogene starting a blog of her own, she hatches a plan to serve her mother a little of her own medicine.
This is a quick read and poses some interesting ideas about the prevalence of the Internet in people's daily lives, but I can't really recommend it. The book's problems start with the cover and title, neither of which serves the actual book well. And then there's the content: clunky dialogue, unrealistic and inconsistent characterization, and a tone and plot better suited to a much younger audience -- more tween than teen. Imogene and her friends are frustratingly immature, "Mommylicious" is a caricature of a mommy blogger, and secondary characters are likewise flat. The ending wraps things up a little too neatly, as well. While I read through it to see how things would turn out for Imogene, I feel it's not successful as a YA novel.
(Reviewed from a copy borrowed through my library system.)