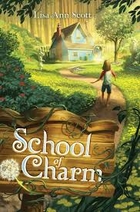 School of Charm by Lisa Ann Scott is historical fiction with a touch of magical realism, set in the 1970's American South.
Chip has always been her daddy's girl, sandwiched in between two sisters who take after their mother much more strongly. But when Chip's daddy dies and the family must move from New York State to North Carolina, Chip finds herself at loose ends. Her grandmother is cold and exacting, and while her sisters quickly adapt to life as Southern belles and make plans to enter the Miss Dogwood beauty pageant, Chip can't seem to settle in. She has no interest in being in a beauty pageant, that's for sure! Exploring the woods near her grandmother's house, Chip comes across a path leading to Miss Vernie's School of Charm. Hoping for something magical, Chip follows the path. Miss Vernie's school is a little bit magical, even if the purpose of it is to train girls for the same pageant Chip's sisters are planning on entering. Chip almost turns and leaves, but she finds herself intrigued by the charm school and the other girls there. Since Miss Vernie doesn't charge tuition at her school, Chip continues to attend. Perhaps, if she can surprise her mother and grandmother by entering the pageant, she will feel like part of the family again.
I found this book underwhelming – the characters are a little flat, the plot a little patchy. There's a good message underlying the story, but it's a bit heavy-handed in its application. All in all, this is not a bad read, but not a great one, either.
(
Reviewed from an advance copy, courtesy of the publisher.
)