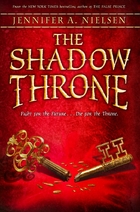 The Shadow Throne
by Jennifer Nielsen is the final book in the Ascendance Trilogy.
Jaron may be the king of Carthya, but his position is by no means secure. The country is on the brink of war, and Jaron will need every bit of cunning to stay a step ahead of the conflict. As battles rage across the land, Jaron schemes and plots his way through -- but his survival will come at a heavy cost.
I like this series well enough, but I don't quite love it. In this book, the dialogue seems a little stilted in places, and too much of the plot relies on coincidences for me to find it really satisfactory. On the other hand, I do love Jaron's snarky attitude! Readers who enjoyed the first two books in the series will certainly want to see how this one turns out. And I do think the series is a great introduction to high fantasy for kids.
(Reviewed from an advance copy, courtesy of the publisher.)