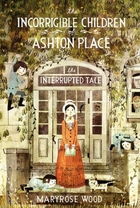 The Interrupted Tale
by Maryrose Wood is the fourth book in the Incorrigible Children of Ashton Place series. Young governess Penelope Lumley and her three charges travel to Swanburne, Penelope's alma mater, where Penelope will give a speech at an alumnae event. Alas, all is not well at Swanburne, especially with the enigmatic Judge Quinzey sitting on the Board of Trustees! Who is Quinzey, really, and why has he fixed his attention on Swanburne?
This book is just as delightful as earlier volumes in the series. Answers to some mysteries are revealed, but not all -- Penelope and her charges will have to wait for another book to discover how all of the elements in their story come together.
(Reviewed from a copy borrowed through my library system.)