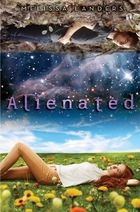 Alienated
by Melissa Landers is a YA sci-fi interspecies love story.
Cara is highly competitive, valedictorian and star of the school debate club. She's looking into colleges, and will need all of the financial help she can get, so when a scholarship opportunity comes her way, she jumps on it -- even if it is a little unconventional. In Cara's world, an alien race called the L'eihr has recently made first contact, and now they are interested in an exchange program. A few L'eihr students will come and live on Earth for a time, and then their human counterparts will do the same on L'eihr. Cara's family will host Aelyx, a L'eihr boy of about Cara's age. Though L'eihr and human DNA are virtually identical, Aelyx at first seems cold and strange to Cara, with his preference for muted colors and bland foods, and his insistence that his own culture, where violence is rare and crime unheard of, is infinitely superior to that of Earth. But as she makes an effort to get to know him, Cara finds herself liking Aelyx more and more. Unfortunately, a political battle is raging over the visiting L'eihr, and Cara finds herself on a different side of the issue from her closest friends. When things start to get ugly, Cara will have to make a difficult choice.
I enjoyed this story, though I wouldn't say I loved it. The writing was fairly good, and the premise was interesting. I would have liked to have a few things better explained, but the book is obviously the first of a series (probably a trilogy), so perhaps a few puzzling points will be clarified in future volumes. I though Cara was a little bit the stereotypical fiery redhead, and Aelyx was hard to like, but mostly because his alien nature was well written. I probably won't pursue future volumes in this series, but I can see myself recommending it to teens who might like a sci-fi love story.
(Reviewed from an advance copy, courtesy of the publisher.)