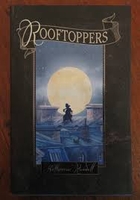 Rooftoppers
by Katherine Rundell is a charming story with an old-fashioned feel.
When the
Queen Mary
sinks in the middle of the English Channel, a baby is found floating in a cello case. Eccentric scholar Charles Maxim determines to take in the baby and raise her as his own. Baby Sophie thrives on Charles' haphazard parenting style, but when the authorities disagree and plan on putting Sophie in an orphanage, Sophie and Charles must make one desperate attempt to find the person Sophie most wants to meet in the entire world: her mother. The search will take Sophie to the rooftops of Paris, where she will have many strange adventures -- but will she succeed in the one thing that is most important to her?
The writing in this book reminded me a little bit of Noel Streatfeild and a little bit of Roald Dahl, in all the best ways. It's a gentle sort of story, but it's not lacking adventure or humor. It has the quirky, dreamy quality of music and poetry, but it's also grounded in things like skinned knees and sausages cooked over an open fire. This is just the sort of book I would have loved at age eight or nine, and I hope it will find those same enthusiastic readers among today's children.
(Reviewed from a copy borrowed through my library system.)