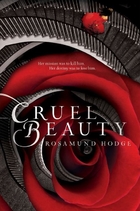 Cruel Beauty
by Rosamund Hodge is a dark and complex retelling of Beauty and the Beast/Cupid and Psyche.
Nyx's father made a deal with the prince of demons, and now the time has come for that deal to be kept. Nyx will wed the Gentle Lord and live with him in his castle until she dies, in return for protection for the land and the life of her lovely twin sister. Nyx has known of her fate for most of her life -- and the bitterness and resentment that has built up within her has not been assuaged by the training her father has given her that may allow her to defeat the Gentle Lord and bring his reign to an end. She will take on the role of obedient wife, all the while searching the castle for the four "hermetic hearts" that hold the castle together. Nyx knows her duty -- but what she does not expect is the attraction she feels for her husband, the way the bitterness and malice within her seem to call out to the darkness and sarcasm in him.
Grounded in mythology and legend, this story hearkens back to the Cupid and Psyche myth that is the root of the Beauty and the Beast fairy tale. Elements of both make this the strongest Beauty and the Beast retelling I have read in quite some time. All of the characters are complex and thought-provoking, none entirely evil or entirely good. While I love a traditional Beauty and the Beast retelling where Beauty's purity of heart enables her to save the day, I found this version fascinating. Readers who enjoy classical mythology, complicated characterization, and new takes on traditional stories should certainly give this book a try.
(
Reviewed from an advance copy, courtesy of the publisher.
)