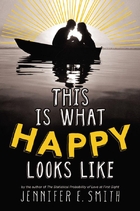 This Is What Happy Looks Like
by Jennifer E. Smith is a sweet but not particularly memorable young adult romance.
When Ellie answers an email sent to her by accident, she doesn't have any idea that the person she's writing to is teen heartthrob Graham Larkin. The two teens fall into conversation, and there's definitely a spark of romance there, even though neither really knows who the other person is. But when Graham ends up filming in Ellie's small town, the teens meet face to face and Ellie has to deal with the realities of dating a celebrity -- even though she has her own reasons for wanting to stay out of the media.
This was a nice enough story, but not one that measures up to the promise of Smith's last YA romance,
The Statistical Probability of Love at First Sight
. Teens who can't get enough of this genre will certainly enjoy this book, and there's certainly plenty to like -- it's just not quite as excellent as I was hoping it would be.
(Reviewed from a copy borrowed through my library system.)