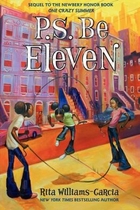 P.S. Be Eleven
by Rita Williams-Garcia is the sequel to the Newbery Honor book
One Crazy Summer
, picking up just where that book left off.
After a wild summer in Oakland with their poet/activist mother and their friends at the Black Panther day camp, Delphine, Vonetta, and Fern are on their way back to Brooklyn. After a summer of freedom, it's hard to remember some of their grandmother Big Ma's rules for proper behavior and not making a "grand Negro spectacle" of themselves -- but after a mad scamper through the airport, they get a sharp reminder that they are not in Oakland any more. Now that they're back in their neighborhood in Bed-Stuy, starting a new year of school, it seems like things should be getting back to normal . . . and they are, but they aren't. Pa is dating someone, and while he seems happier than Delphine ever remembers him being, she's not convinced that a stepmother is a good idea. Doesn't her father still love their real mother? Uncle Darnell is back from Vietnam, too, and that should be good, except that Uncle Darnell spends all his time sleeping on the couch, wakes up screaming from terrible nightmares, can't seem to find a job, and is far from his old self. And Delphine herself is starting sixth grade, and she notices that some of the girls are starting to be interested in boys in ways that they weren't before. She still feels responsible for her sisters, even though they don't need -- or want -- as much of her attention as they used to. Delphine feels like she is growing up fast, but each letter she gets from her mother ends with the same post-script: Be eleven.
As in
One Crazy Summer
, Williams-Garcia does an excellent job with dialogue and character development. I didn't think the plot in this book was as strong as in the last book, or as closely tied to the political upheaval of the time, though there were certainly plenty of pop culture references. Still, readers who liked
One Crazy Summer
should pick up
P.S. Be Eleven
, as they will enjoy following the girls' continued story.
(Reviewed from a copy borrowed through my library system.)