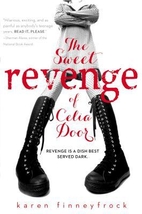 The Sweet Revenge of Celia Door
by Karen Finneyfrock is young adult realistic fiction with a heroine who is learning to be strong.
Last year, the mean girls picked on Celia, but this year she has decided to be Dark. Celia the Dark doesn't let anyone push her around, and she's determined to come up with a brilliant, poetic plan for revenge on the girls who bullied her. Of course, dealing with bullying and social ostracism isn't as simple as all that, and when you throw in complications like parents going through a separation that might end in divorce, and a new friend who is just coming out of the closet -- well, it all adds up to quite a year for Celia. Will her Dark outlook see her through?
Going in, I expected this book to dish out the teenage angst, and it does -- but what I didn't expect was that it would also be sweet and sometimes funny. Finneyfrock creates great, pitch-perfect teenage characters, but she's also able to pull out a bit of the ridiculous nature of high school (think
Ferris Bueller's Day Off
, for comparison). Enjoyable all the way through; this is an author I'll be sure to watch!
(Reviewed from a copy borrowed through my library system.)