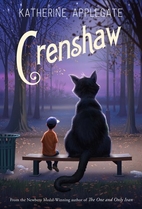 Crenshaw
by Katherine Applegate is an imaginary friend story that deals with some serious real-life issues.
Back when he was six, Jackson had an imaginary friend named Crenshaw, an enormous black and white cat. That was when his family was going through a rough time, living out of their minivan. Now, at the end of his fourth-grade year, it looks like those bad times may be returning as his family falls behind in the rent and holds a big yard sale in hopes of paying off some bills. Jackson is too old for an imaginary friend, and way too serious for one -- but nevertheless, Crenshaw is back. Can he help Jackson process the issues his family faces?
First of all, the good: I really liked the family dynamics portrayed in this book. Jackson's family is loving but flawed, and that comes across well in the writing. On the other hand, for a book dealing with such weighty issues, this one felt slight to me, not as meaty and satisfying as it could have been. Part of the issue was, I think, that so much of the book is spent describing the past, when I wanted to see more of the present. All in all, a fairly good read if you are interested in this sort of book, but it doesn't pack the same emotional punch as Applegate's Newbery winner,
The One and Only Ivan
.
(Reviewed from a copy borrowed through my library system.)