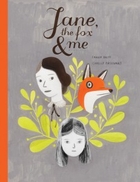 Jane, the Fox, and Me
by Fanny Britt, illustrated by Isabelle Arsenault, is a graphic novel recommended by a friend.
Helene is feeling insecure: the girls she used to be friends with have suddenly turned on her, whispering behind her back and writing nasty comments on the bathroom wall. To escape, she reads
Jane Eyre
, which she has decided is the best book ever, even though she is only part of the way through it. But what will happen when her entire class, including her tormentors, is sent off to nature camp for a week?
This is a quick read, even for a graphic novel. The artwork is done in a style that doesn't particularly appeal to me -- it looks half-finished. (But I am an uncultured barbarian when it comes to graphic novels, so don't mind me.) Helene is a great character, and in just a few interactions we get a real sense of her relationship with her mother as well as the general climate at school. I think this will resonate with kids who, like Helene, are being bullied, but I can't see them picking it up on their own. This is a book in need of champions to see that it gets into the hands of the readers who need it.
(Reviewed from a copy borrowed through my library system.)