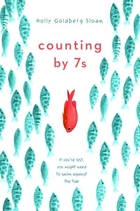 Counting by 7s
by Holly Goldberg Sloan is a middle-grade novel about grief and family.
Willow Chance has always known that her parents love her very much and support her in her many endeavors, such as researching human biology and disease, gardening, and the color red. Her school has not always been as accepting of Willow's eccentricities, and she is placed in counseling when the middle school principal suspects her of cheating. In the counselor's office, she meets Mai, an older student who is accompanying her troubled brother to his counseling sessions, and a friendship springs up between the two. When tragedy strikes, it's Mai who takes control of the situation. Over the course of the story, Mai's family, the school counselor, and a taxi driver all get to know Willow, and each of their lives are changed in positive and unexpected ways.
This book has a lot of heart -- it is heartfelt, heartbreaking in places, but ultimately heartwarming. Each character is multifaceted and the character development over the course of the story is a pleasure to read. If you enjoy realistic juvenile fiction with good writing and interesting characters, give this book a try.
(Reviewed from a copy borrowed through my library system.)