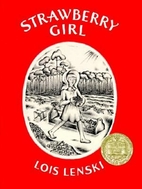 Strawberry Girl
by Lois Lenski -- In some ways, the piney woods of Florida is just as wild as the Wild West. Birdie Boyer's family is determined to make a go of strawberry farming, but they will have trouble not only with the hazards presented by the natural world, but also resistance from a cantankerous neighbor.
This book reminded me strongly of the Little House books, both in content and in writing style. Characters speak in the vernacular, which may present a challenge for some readers. The ending seemed rather
deus ex machina
to me. Still, I would probably recommend this to readers of all ages who can't get enough frontier fiction.
(Reviewed from a copy borrowed through my library system.)