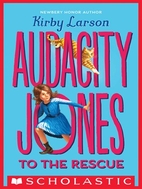 Audacity Jones to the Rescue
by Kirby Larson -- When feisty Audacity is chosen from among her fellow orphans for a special mission, she has dreams of making a difference in the world, but ends up entangled in a shady scheme. Can she foil the bad guys? Lucky for her, she won't have to do it alone.
A fun little historical adventure, one that will appeal to kids, but not necessarily to adult readers.
(Reviewed from an advance copy, courtesy of the publisher.)