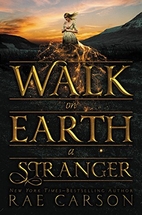 Walk on Earth a Stranger
by Rae Carson is the first book in a new series by a talented author.
When Leah Westfall finds herself alone in the world and subject to the devious machinations of a greedy uncle, she does what thousands of others are doing: she goes west. Gold has been discovered in California, and the gold fever has struck the general public hard. Disguising herself as a boy, "Lee" makes her way up the Mississippi to Independence and finds a wagon train to join. There will be plenty of hardships over the next months, and not all of Lee's companions will make it to their destination. For Lee the stakes are high, because she's hiding not one, but two secrets: not only is she a girl dressed as a boy, but she also has the magical ability to sense gold hidden in the ground. And the only person who knows is her uncle -- the man who will stop at nothing to bring Lee back under his control.
This is a highly enjoyable story, rich in historical detail and character development. Carson doesn't pull her punches: readers will get quite attached to some characters who won't make it to the end of the book. Despite (or because of?) that, this is a great read, especially for those who have an interest in historical fiction set in this period. People I'd recommend it to: fans of this author, people who enjoyed Patricia C. Wrede's Frontier Magic trilogy, and everyone with a nostalgic fondness for
Oregon Trail
.
(Reviewed from an advance copy, courtesy of the publisher.)