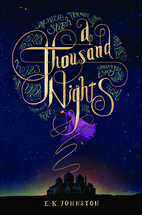 A Thousand Nights
by E.K. Johnston is a compelling fantasy in a desert setting.
Lo-Melkhiin went hunting in the desert one day, and he came back changed. The powerful young ruler now has something cold and calculating at his heart, and though he is still fair, he is no longer beloved. How could he be, when he has killed hundreds of brides and seems to have an insatiable appetite for more? When he comes to the tents of this book's nameless heroine, she bravely steps forward to save her beloved, beautiful sister. She expects to die like all the others, but she finds that she can survive one day at a time -- thanks, perhaps, to her words and stories, which seem to have a mysterious power that they never had before. Can she use them save Lo-Melkhiin and his people from a powerful force of evil?
I loved the sense of mystery and the wealth of authentic detail in this book. I have not run across many retellings of The Thousand and One Nights, and this one is particularly skillfully written. I thoroughly enjoyed it.
(Reviewed from an e-galley, courtesy of the publisher.)