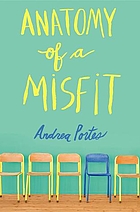 Anatomy of a Misfit
by Andrea Portes is an angsty YA novel set in a Midwestern high school.
Anika Dragomir feels like an outsider in her white-bread high school, despite the fact that she is the third most popular girl in school. Her angst is exacerbated when nerd-turned-hottie Logan McDonough starts giving her rides home from school. Anika kind of likes Logan -- okay, really likes Logan -- but she know that she would get endless flack from Becky, the top most popular girl, if she were to date outsider Logan. Anika's romantic troubles are further complicated when THE Jared Kline, possibly the most popular guy in town, or maybe the state, starts showing an interest in her. Sure, it's flattering, but is he just a scam artist who will use her and drop her as soon as he gets bored? And what about Logan and their sweet, secret romance?
I read this for my book club, and I foresee some interesting discussion ensuing. Anika's narrative voice was, to me, really annoying. I had a hard time liking her, or even relating to her. Despite the title, I didn't see her as a misfit -- in fact, I began to wonder if the title was supposed to refer to her, or to Logan (who probably qualifies as a misfit, but we don't get nearly as much insight into his character as we do into hers). Anika is a pretty, popular girl from a middle-class family. She has 99 problems, and all of them are first-world problems, mostly caused by her own bad choices. Okay, so she's a teenager, I can usually look past that in a YA book. But the writing was not as tight as I would like it to be. For one thing, the book is interspersed with short chapters, set apart by being typeset in italics, that are foreshadowing of the book's final events -- the character is pedaling on a bike, heading toward some cataclysmic event. I'd have been fine with one chapter like that at the beginning, or conversely I'd have been fine if each successive foreshadowing chapter revealed more key details, but they really didn't reveal anything new or add anything to the story. Also, as we might surmise, Anika is the one riding the bike in the foreshadowing chapters, but it's never mentioned in the earlier parts of the story that she even
has
a bike. Instead, we get her whining about her long walk home from school. Hmm, I see a solution here... One more criticism: I feel like it's just a little bit lazy when authors from my generation write YA novels and set them in the high school of the '80s or '90s, especially when there's not a strong reason within the plot for the book to be set in the present day. Granted, in this case the author mentions that the book is partially based on her own high-school experience, but seeing as it is fiction and not memoir, perhaps the pop culture references and such could have been updated a bit. I can't find a plot-based reason why the characters are name-checking Madonna and Bruce Willis instead of Lady Gaga and Orlando Bloom, or whoever kids these days name-check. Maybe I am being too picky, because the book did grab me once I got past being irritated at the narrative voice and settled into the story. I think this will appeal to fans of YA realistic fiction along the lines of
The Perks of Being a Wallflower
, but it wasn't really my cup of tea.
(Reviewed from a copy borrowed through my library system.)